By John Cobley
6th April 2015
---
---
---
Tom Farrell Profile
b. January 18, 1944
5'7"/1.70, 140lbs/63.5kg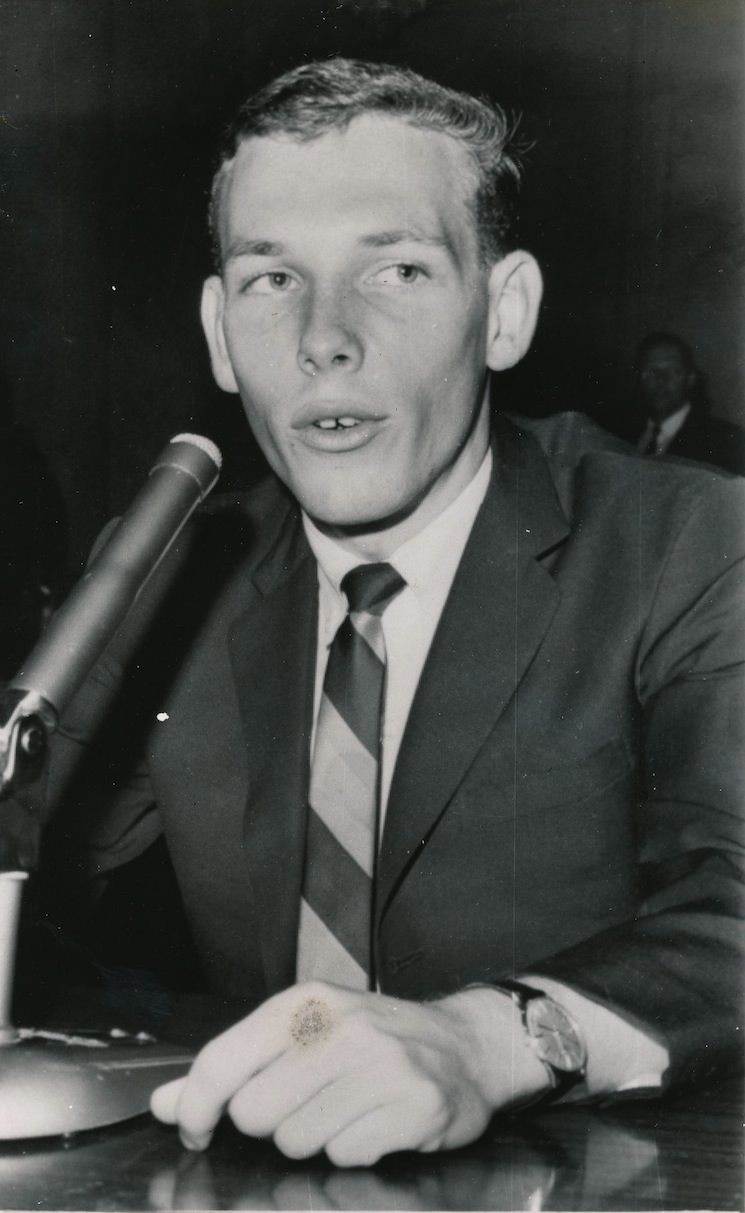 Tom Farrell testifies to the Senate Commerce Committee in 1965.
When American 800-runnerTom Farrell arrived at Mexico City for the 1968 Olympics, he believed he was going to win. He had good reasons for this belief. He was in the form of his life and in the US trials he had just had a comfortable win in a PB 1:46.5, the fastest altitude time in the world so far that year. And with good finishing speed, he had confidence from winning many important races in the US. He also brought Olympic experience, having run a creditable fifth in the previous Olympics in Tokyo when only 20 years old.
He did run well in the Olympic 800 final, and he broke his pre-Mexico PB by 0.9 of a second. However, unable to match the finishing speed of Australian Ralph Doubell and the strength of Kenyan Wilson Kiprugut, he had to be satisfied with the bronze medal. "I got beat by two better guys," he admitted much later.
Farrell initially had planned to run a third Olympics in 1972, wondering if he could perhaps complete the symmetrical progression from fifth in Tokyo and third in Mexico to first in Munich. But he had completed his degree and his military service and needed to earn a living. Finding a job in marketing with Xerox, he quickly found it impossible to continue training at the level needed. His ten-year running career was over.
Today Tom Farrell has some regrets: "I was doing best training of my life. At 24 I was still young. I sort of lost it mentally; that's when you need someone to talk to. It would have been hard to continue for four more years. Business doesn't support someone who wants to run track and field. You think back: it was four years too soon."
--
Growing up in New York (Queens), Tom Farrell developed an early interest in baseball. A cousin of his had been a pitcher for the New York Yankees: "When I started high school I wanted to play in the baseball team so I went out as a pitcher. But they told me I was too small. So I went to the track team. What I had realized when growing up was that I was faster than anybody else. I could beat anyone in a race. I don't remember anybody ever catching me.", There was another reason for making track his second choice. He had been mightily impressed by an Irish runner whom he had seen win at Madison Square Garden a couple of times. "Ron Delany was my idol," he says.
Farrell has fond memories of his first official race: "My school, Archbishop Molloy, had an intramural meet for freshmen at a local field. That was the first time I raced, a 440. I have a picture of the finish; it's one of my favorite photos." He was 13.
Under Coach Frank Rienzo, Farrell improved quickly. He ran 2:13 for 800 that first year and 1:59 the next. When he ran 1:57 in his Junior year, he learned how important running had become: "I realized I would have a great opportunity to go to college for free. So I trained real hard and kept to it."
This new attitude bore fruit in his senior high-school year when he won 16 straight races for his school. Benefiting from regular practice on an indoor track built at his high school, he was dominant on the boards. Indoors he ran 2:15.5 for 1,000 yards, breaking all sorts of records. Outdoors he improved to 1:54.3 for 880.
University
With his successful competitive record, he had his choice of colleges but chose to stay in New York and enroll at St. John's University. "One of the main reasons I went to St. John's was to train under Steve Bartold. He was a young charged-up guy. I knew him from a rival high school. I had respect for him and thought he was the kind of coach I should have."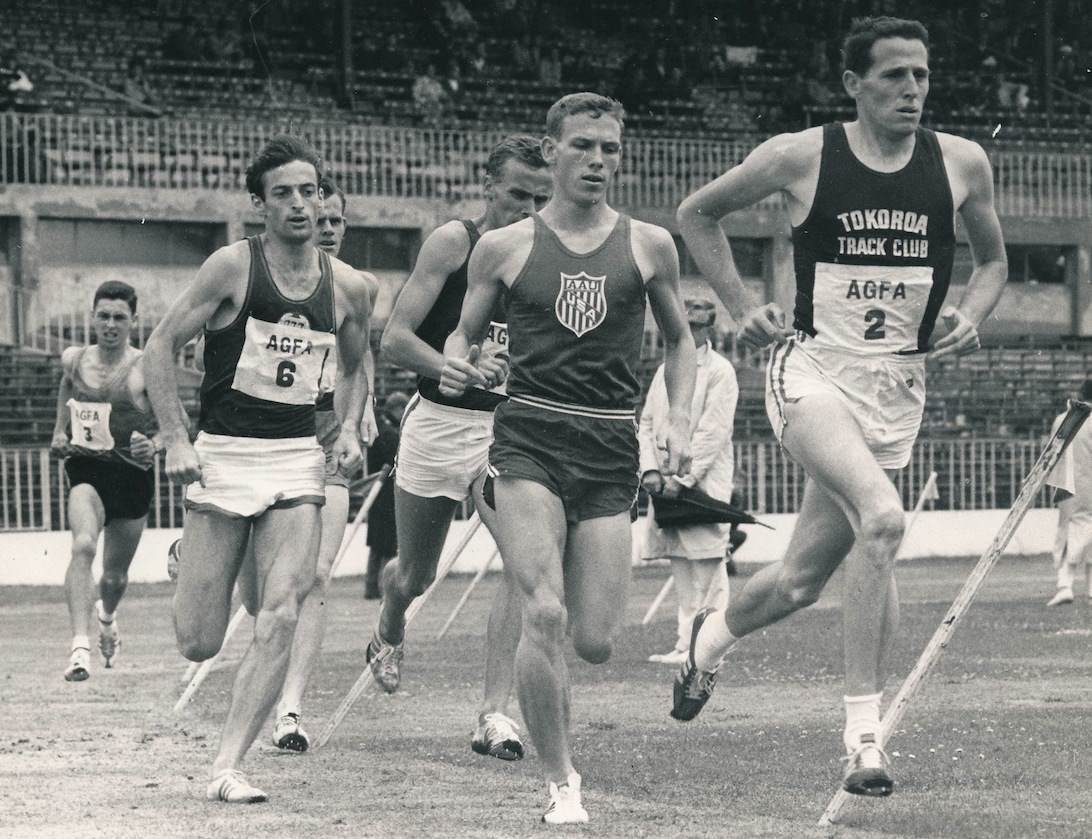 Farrell running in New Zealand after the
1964 Olympics. John Davies leads.
Bartold soon had Farrell training hard. "At St. John's you trained six days a week and every days was hard," he recalls. "None of this one easy day, one hard day. Every Monday we did 12x400; it was a standard workout—you didn't even have to ask the coach. Then the next day you would run hard again and the next day until Friday. If there was a meet on Saturday, you would take a few days off. It was all interval work. You had shin problems; everything hurt. That's how we did things. Nowadays I don't think kids train hard everyday. There was no weightlifting, no special diet."
Conditioning also involved cross-country: "I ran cross country every year. I never did well but had a few good races. I hated it. Five miles up and down hills; it was just miserable. But it gave you the background, the base. You're going to get injured sometime in the year, and it would help you bounce back a little quicker because you had this tremendous base."
Farrell exceeded his own expectations in his first year at university. Over 1,000 yards indoors he ran third to Bill Crothers and Frank Tomeo in Boston, and then second to Tomeo in the AAU Metro Meet (2:15.3). He also ran a fast 600 in 1:13.1. Outdoors he set a meet record of 1:53.4 in winning the 880 in the Metropolitan Track Series.
The next year he ran cross-country but not the 1963 indoor circuit. Outdoors he win a couple of 880 races, but failed to make the final in his IC4A conference. This setback affected him deeply: "I said this can't happen again. All of a sudden you are watching the race instead of being in it. You see people running you can beat. I said to myself you don't let this ever happen again. So I let that be a lesson."
Olympic Year
Even though Olympic selection was only a distant dream, he decided to focus on the outdoor season in 1964. The plan was to use indoor racing as preparation for outdoor competition. "The idea was to train as an 800 runner, but to run 600s and 400s till they came out of your nose. That was the speedwork for the 800. In some of the weekend competitions I would run two 400s one day (heat and final) and then a trial and final in the Mile Relay. So I got used to running 46-47-48-47. What I found going into my Junior [outdoor] year in 1964 was that this all helped me because the pace in the 800 back then was 54-5 at an even pace throughout."
Although he was using the indoor season as preparation for outdoors, he competed well. He started with a meet-record PB 2:12.3 win over 1,000 Yards and then a 1:11.4 PB for 600 Yards. He improved to 1:10.7 in Boston. In the AAU Indoor he ran a good second to Jim Johnson (1:13.6 to 1:12.1). Perhaps most importantly he discovered, in running lots of shorter races that all of a sudden he had developed a pretty strong kick.
Two National Titles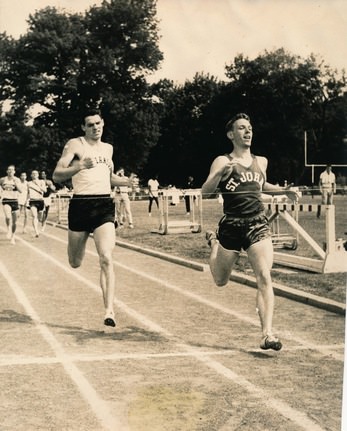 First national title: Farrell beats
Noel Carrol in the 1964 IC4As.
As soon as he began racing outdoors, it was clear he had moved up to a different level. After several busy relay meets where he ran several races on the same day, he took the IC4A 880 title in a tight race with Ireland's Noel Carroll. The New York Times reported, "Few here considered him a serious contender, and few noticed him in the pack, [but] when the inside lane opened up he needed no invitation. He surged by the leaders with 40 yards to go and won convincingly in 1:49.5." (May 30, 1964) It was his first national title and his first time under 1:50.
At that point Farrell had no thoughts about making the Olympic team: "When the coach said, 'We are going to the NCAAs,' I said, 'No, I think my season's over.'" But Farrell was talked into going. "I had never competed outside the northeast, [the area] from Philadelphia to Boston," he explains. "When I got to Eugene, everybody looked gigantic. It was intimidating." He made it through the 800 heats and semi (1:49.8). For the final his coach advised him to stay near the lead: "I stayed on the inside. Coming round the last turn, I was in the thick of things. As I was going down the final straightaway, a guy from USC moved wide, so I passed him on the inside and I won. I didn't know I'd won. I was full of running at the end. I attribute that to doing all those 400s and 600s." He had upset all the forecasters, winning with a PB 1:48.5
Olympic Trials
Qualified! Joy and relief show on the faces of Farrell and
Morgan Groth, as they make the 1964 Olympic team.
So the IC4A and NCAA champion went on to the Olympic trials. The new kick that he had discovered during the indoor season now gave him more confidence as he lined up in the AAU 800 final. He was facing the best American half-milers for the first time: Siebert, Groth, Sugden, Mitchell. He was last at 600 and only seventh at the top of the bend, not a good enough position to make full use of his kick. But he worked his way through to fourth by the end, improving his PB yet again with 1:47.5 and qualifying for the final Olympic trials.
Somehow he had to improve yet again. To be in the top three he would need all the confidence and poise he could muster: "I'd never been through anything like it in my life," he recalls. "It was a tactical race, six guys. I remember the 400 [time] was 55 something. When I heard that, I smiled inside because I knew I had this finish. Coming off the last turn, I slowed down to go around on the outside and ran as hard as I could." His kick didn't let him down. 1. Groth 1:47.1; 2. Farrell 1:48.0; 3. Siebert 1:48.3. Farrell had surprised the experts again and was Tokyo-bound.
Olympic Debut
This is fairy-tale stuff; let's recap. Tom Farrell has arrived in Tokyo as a raw 20-year-old Junior collegiate. He has no international competitive experience; in fact he has competed only twice outside north-east USA. He had not beaten 1:50 at the start of the year. His naivete became apparent when he looked at the start sheet for his 800 heat: "I knew only one name on that list. There was also someone from K-E-N; I was trying to figure out what KEN stood for. I had no clue it was Wilson Kiprugut of Kenya. I reckoned I could get through [my heat] as I knew only one name."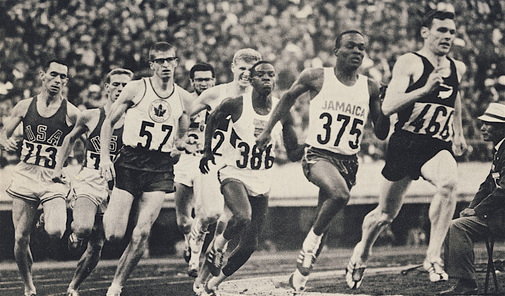 300m to go in the Tokyo 800 final. Farrell, his
head behind Crothers' (57) shoulder, is in
sixth as Snell makes his move at the front.
He was in for a big surprise when Kiprugut went straight to the lead: "He told me after that he ran as fast as he could for as long as he could. This was the first time in my experience that a guy went out in 51." Farrell kept his cool and finished a comfortable second (1:48.6) behind Kiprugut.
The three semis were tough with only the first two and the two fastest losers going through. Farrell had two very good and experienced runners in his semi: Crothers and Manfred Kinder of Germany. Kinder was reputed to be Europe best hope. It was tight but he managed to just get by Kinder in the final straight for second place. 1. Crothers 1:47.3; 2. Farrell 1:47.8; 3. Kinder 1:47.9.
Olympic Final
Tom Farrell, 20, was in the 800 final, facing the best runners in the world and asking himself, "What am I doing here?" But he wasn't overwhelmed and performed brilliantly in the final. He was at home in the inevitable jostling after Kiprugut decided not to go out quite as fast as before. In fact, he held race favorite Peter Snell in a box: "I thought I might as well keep this guy there. That's my indoor training. But he just slowed down and went around everybody." (Snell said later, "I was very worried. I have never been boxed in like that before.") Farrell was in the race until 300 to go when Snell "went like a shot out of a cannon. It was power: you got chunks of dirt thrown in you face!"
Farrell finishes fifth in the
1964 Olympic final.
He finished in fifth. "I felt that if I had had to run a fourth day, I would have run even better. With a little more experience I could have finished third. They weren't all that far in front of me. If I had gone earlier; if I had had more faith in myself; if I had moved with 300 to go instead of sitting where I was, if I had had more race training…then…..I could have got third. But I was really happy with fifth. Going from 1:51 to 1:46 is a big leap." 1. Snell 1:45.1; 2. Crothers 1:45.6; 3. Kiprugut 1:45.9; 4. Kerr 1:45.9; 5. Farrell 1:46.6; 6. Siebert 1:47.0.
It had indeed been a fairy-tale season that had seen Farrell transformed from a good college runner to an Olympic finalist. Although his life was bound to change drastically, he still had a over a year of studies to complete for his marketing degree. First, however, he made a quick trip to New Zealand to run against Snell and John Davies. This trip had some long-term repercussions. First he learned about the Lydiard training that Snell was using, and he later incorporated it in his second Olympic preparation. Second, he found New Zealand such an attractive country that he now visits there every year.
Back Home
Boston 600: Farrell (inside) about to take an early
lead, but Crothers (2nd left) will win.
After New Zealand it was back to studies and to the 1965 indoor season. Bill Crothers, who had finished ahead of Farrell in Tokyo, was now a target. Farrell figured his best chance was in the February NYAC meet that was trying to assemble as many of the Olympic 800 finalists as possible. But first he raced the Canadian over 600 in Boston. It looked like he had a chance there because Crothers was be running his third race in three days: "I planned to run as fast as I could from the beginning of the race and see what happened. I figured he would be tired. With a lap and a straight to go, I was running as fast as I could possibly run and Crothers flew by me. I almost had a heart attack. He beat me by 5/10ths. But they carried him off the track—after three races in three different cities." Crothers' 1:09.3 was only 1/10th off Motley's world record; Farrell's 1:09.8 was a PB.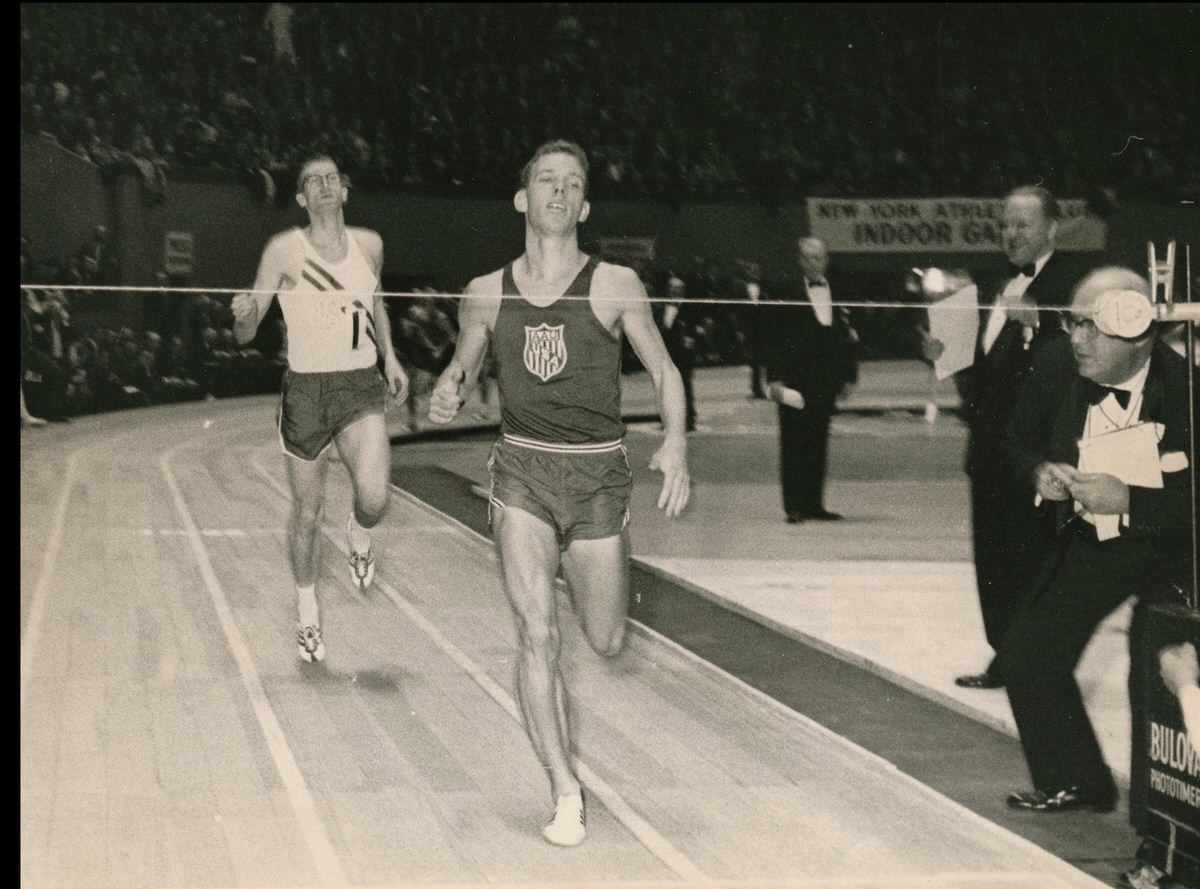 NYAC 880: Farrell finally beats Crothers.
(Note the officials' attire for indoor meets.)
In the NYAC 880 twelve days later, Farrell again went straight into the lead, while Crothers ran easily at the back. Farrell still had two yards on his rival at the bell and managed to hold the same advantage for the whole of the last lap. He had finally beaten Crothers. As a bonus, he also broke Snell's indoor WR of 1:49.9 with 1:49.8. The mental effort of that race was so great that he voided his AAU entry for the following week, citing "mental fatigue." But a week later he returned to win the Knights of Columbus 1,000 in 2:12.0 despite being "underweight from exhaustion." (New York Times, Feb. 25, 1965)
For the 1965 outdoor season, Coach Bartold and Farrell planned a lot of 440 races, both in open and relay competition. The goal was to repeat his NCAA win and to qualify for the USA team to meet the USSR. The speedwork went well; he ran a 46.4 relay leg and a 47.4 in open competition. And this speed won him his second NCAA title with a charging and confident finish. He moved into second with 200 to go and powered by Carnell Mitchell as they entered the straight. "That was the first time all week that I kicked," he told The New York Times. "I had plenty left." (June 20, 1965)
His second goal of the summer, however, ran into a roadblock. There was a power struggle that year between the NCAA and the AAU. The NCAA wanted their athletes to boycott the AAU. At first Farrell complied and flew home from California. But at the last moment he was allowed to compete after all and flew back to California. The extra travel and the furore over the boycott took its toll on him; nevertheless he came in third behind Groth and Germann. This made him only the alternate for the Russian match, so he missed his only chance to compete against the USSR. The only recompense was a European tour of five races, all of which he won. His best 800 time was 1:47.6 against Poland. This was the only European tour of his career.
1966
With one more year of university eligibility, Farrell again focused on speed in the indoor season for the defence of his outdoor NCAA title and for a place on the USA to compete against the USSR. In January he ran (and won) a series of 600 races: 1:11.7, 1:11.2, 1:12.0, 1:09.3. The New York Times said that he had "never looked better" (January 28, 1966) in the last of the races, which was just outside the 1:09.2 WR. In February he decided to go for the 600 WR, but he strained his thigh in the first turn and was out of competition for a couple of weeks. He recovered for the IC4A indoor meet and took the 600 title easily in 1:11.4. But he was not so successful in the NCAA indoor 600: 1. McGrady 1:09.2; 2. Carson 1:09.5; 3. Farrell 1:09.6. "I let them get away," he explains. "I made my move too late." McGrady (1:11.0) narrowly beat him (1:11.1) again over 600 a week later in Cleveland, with Crothers (1:11.3) back in third.
Farrell was back to his winning ways outdoors. An early 880 in April (1:47.9) was the world's fastest of the year. After another win in the LA Relays (1:50.1), Farrell took the AAU 880 title from Nelson and Patrick in 1:47.6. He had qualified for the USSR match, his goal for the 1966 outdoor season. Unfortunately the Soviet Union withdrew at the last moment, and instead an international meet was set up in Los Angeles. Jim Ryun, still only 19, decided to go for the 880 WR in that meet, which meant that Farrell would be up against the greatest miler in the world. In fact, Farrell after winning an 880 in1:47.6. had watched Ryun's 3:51.3 WR on July 17.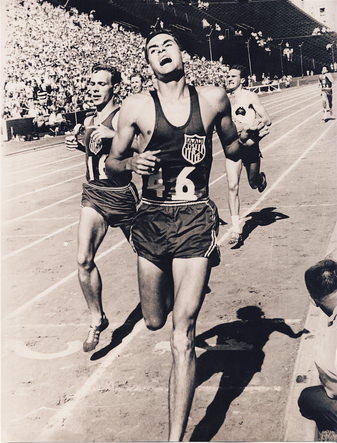 Farrell just fails to catch a tiring
Jim Ryun in LA. Ralph Doubell is third.
Farrell got married just before this race and came to Los Angeles after a 10-day honeymoon in the West Indies. Unbeaten in the outdoor season, Farrell faced much more competition than just Ryun. Ralph Doubell, the current 800 Olympic champion was in the race with his fellow Australian Noel Clough. And then there was Briton John Boulter, one of Europe's best with a 1:46.5 PB, as well as Americans Ted Nelson and Preston Davis.
John Boulter led in just under 26.0 at 220 and 53.0 at 440. When Ryun made his move, running wide round 3rd turn, Doubell and Farrell were quick to follow. Ryun led at 600 1:19.0. from Doubell and Farrell. Ryun now showed signs of fatigue after a fast third 200 (25.8 and running wide). Farrell had the most left. He passed Doubell and gained a lot on Ryun. With 75 yards to go, he almost caught Ryun, but that was as close as he got. Ryun managed to respond to the challenge and was 0.3 ahead at the tape (1:46.2). "I was closing at the end," Farrell recalls. Still, he was rewarded with his best time of 1:46.5, which ranked him third in the world for 1966. This was the first time he was beaten outdoors in 1966.
Military Duties
1966 was a transitional year for Farrell, not only did he graduate and get married, but he also began his two-year military service. "There was a draft back then, "he explains. "Many top athletes were drafted, and the Army would assemble them in south California. It was kind of like what the Russians did. It was tremendous: I got paid, and I was training with some of the best runners in the US--Tracey Smith, Tom Van Ruden, Preston Davis." Farrell was in the army right up to the Mexico Olympics.
And the Olympics were his goal. All his training was to be focused on Mexico. But first he had to undergo three months of basic training; it was so intense that he found little time to train. When that was over, he ran a few indoor relay legs for the Army in the 1967 indoor season and then reported to California for track training. Together with Preston Davis, he went on a 14-month training program based on Peter Snell's: "We did Lydiard-type training. I had talked to Lydiard in New Zealand, and I had read and learned from people like John Davies. We built up to 100 miles. We did it just once and then went back down to 70-90."
Farrell trained hard through 1967. His only competitions were his obligations to the Army. For the first time in years, his name wasn't in the world rankings. In October he went to Mexico for the Pre-Olympic meet, but finished last in his heat (1:55.8) after experiencing chest pains at 600.
Olympic Year
After a solid year of training, it was time to sharpen. A win in Boston over 600 in 1:11.1 was a good start to 1968. A second place behind McGrady followed, with The New York Times reporting him "as tenacious as ever." (Feb. 2, 1968) But then in New York disaster struck: he broke a bone in his foot. "I was devastated," he admits. "I was on crutches at least six weeks." To keep himself mentally tough, he would walk a lot on crutches, even though it was painful. After two months he began running again and within two weeks clocked a 1:51 880. Farrell attributes his quick recovery to the heavy mileage he had done in 1967: "If you get injured, which I did, you bounce back from the injury quicker."
But there wasn't much time left to get in top shape. A 1:47 in the military championships was encouraging, but when the first US trials came in June, he was still not right. A fourth place in the heats (1:48.8) was worrying. "I didn't run anywhere near as well as I hope to," he said afterwards. (New York Times, June 20). He ran better in the final (4th in 1:47.3), but was well back of winner Wade Bell (1:46.1). "I need more racing," he said afterwards. "But I'll get there, maybe in a few weeks, maybe longer." (New York Times, June 21, 1968)
He was right: he did "get there." Fortunately the Army sent him up to Lake Tahoe for altitude training. In the wonderful facilities, which were to host the final trials, Farrell started to click: "We trained at altitude for two months. During those two months I managed to get it all back. Three weeks before the final trials, I ran 1:16 for 600, when I thought I could have done another 200. I liked to run 500s where you would be timed at 440 and then maintain your style for the extra 60. [In one session] I ran through the first 440 in 52. Then I did 51, 50,49, 48. After that workout I thought I was ready. I didn't think anyone else could do workouts like that."
1968 US Trials: Farrell is a clear winner
over Wade Bell.
In this peak form, Farrell won the final US trial. "It was an easy race," he says. But it hadn't been that easy. The New York Times reported on his mental preparation for the trials through an interview with his wife Chris. "He hasn't said anything to me for the last week,: she said. "That's the way Tom is before a big race. He'll go into his room and stare at the wall for six or seven hours." (Sept. 11, 1968) Today, Farrell confirms his wife's description; before races, he didn't like to talk to people and he visualized the race continually.
He got through the preliminaries with 1:48.8 (2nd) and 1:49.6 (1st). In the final, Farrell went early, while his main rival Bell waited for Jim Ryun to make his move. When Ryun was unable to respond, Bell realized he would have to chase Farrell on his own. Bell was unable to catch him, but Farrell did get into trouble at the end: "I started to hang. This was the first time I've been affected by the altitude. I don't think I could have gone a step farther once I hit the wire." (New York Times, Sept 11, 1968) 1. Farrell 1:46.5; 2. Bell 1:47.1. So he had successfully negotiated the first step of his Olympic quest. It had been a tough experience: "The US Olympic trials were more nerve-wracking than the Olympic Games, which shouldn't be the way," he says now.
Mexico
Last bend of the Mexico 800:
While Doubell tracks Kiprugut at the front,
Farrell moves into third place past Fromm.
In the form of his life, Farrell went to Mexico City confident of success: "I was thinking I was going to win. I had the fastest time at altitude. Kiprugut ran faster time in the Olympic village [just prior to the games], which was probably expected because he lived at altitude." However, something went wrong in the month between the US trials and the Games: "I found that I had peaked for the Olympic trials. I don't think I ever got back to where I was in the trials, [although] I was still in great shape."
He felt fine in the first round of the 800 (2nd in 1:47.9), but in the semi he knew something wasn't right. The foot that he had injured early in the year had started bothering him again. As well, he just didn't feel in quite the same form he had experienced in the trials. But he got through to the final with a fourth place finish behind
This frame from the Olympic film shows the race with about 50m
to go. Doubell has just passed Kiprugut, and Farrell is fighting to
hold off Adams.
Doubell (1:45.7), Kiprugut and Plachy. His time of 1:46.1 was a PB, and it gave him a one-second cushion over the fifth-place finisher Ouko. Yet again he had come up with a PB just when it counted.
There were five really good runners to beat in the final: Doubell, Fromm, Adams, Kiprugut and Plachy. "I still felt I had a chance, but I wasn't right," he says. "I went in with a good attitude, but I think there were some doubts." Farrell had the outside lane. He says he was fine round the first bend, but then had a hard time getting going. Nevertheless, he was in the pack (seventh) at the bell, Kiprugut leading in a fast 51.0. As the Kenyan tried to run away from the field, Farrell was fifth coming into
Mexico Olympic 800 finish: Adams, Farrell, Plachy,
Doubell and Kiprugut (from left).
the back straight, but when Doubell made his effort at 600, he was unable to match the Australian's speed. "He was fast, very fast," Farrell remembers. Farrell was fourth as they entered the last bend, and it took him the whole curve to get by Fromm. While Kiprugut and Doubell were fighting their own battle well ahead, Farrell had to fight off a persistent Walter Adams all up the straight. "I didn't think he was going to drop back," he said after the race. Finally he managed to move away from Adams to win the bronze by just 0.4 of a second. He had run yet another PB. 1. Doubell 1:44.3; 2. Kiprugut 1:44.5; 3. Farrell 1:45.4; 4. Adams 1:45.8; 5. Plachy 1:45.9; 6. Fromm 1:46.2.
"I ran my best time. I got beat by two better guys," Farrell says, assessing the race 47 years later. Indeed, he had twice improved his PB in Mexico.
To Continue or Not
Now out of the Army, Farrell had to think about earning a living. But he still couldn't yet "find a nail, tack up my shoes and quit." (New York Times, Sept. 11,1968) There was a possibility that he could combine his running with making a living—in a projected professional track organization. But that option was still in the future. So he continued training and began a job search.
Training became difficult: "From my bad foot I developed a back problem, maybe sciatic. I was training really hard, but I started each day with a limp and had to work off the pain." He persevered and began to show reasonably good form in January with second-place finishes in LA and Philadelphia. Then he obtained a job with Xerox. He was all lined up for a meet in Boston on February 1 when his new employer sent him down to Florida. This led to his decision to retire from track. "At 24 I was doing the best training of my life. I was till young. Just out of army, I had to get a job. When you have a wife, you have to earn a living. So I joined a company. I sort of lost it mentally; that's when you need someone to talk to. It would have been hard to continue for four years. Business doesn't support someone who wants to run track. I went into marketing, where it comes down to 'What did you sell today?' Thinking back it was four years too soon."
Even today Tom Farrell is still pondering over the what-ifs, especially regarding the Munich Olympics: "Maybe it could have been 5th, 3rd, 1st. Watching Dave Wottle's race, I wondered if I could have got far enough ahead that he couldn't have caught me."
Life After Track
The job with Xerox that precipitated Farrell's retirement from competitive running turned out to be the job of a lifetime—literally. His 32-year marketing job with Xerox was the only job he ever had. Farrell's tells a wonderful story about how he landed this job in the first place. Back in 1968, when he had started to interview for jobs, Farrell dropped by the New York Times offices to see his friend Frank Litsky. The sports journalist had been covering Farrell's running exploits for many years. When Litsky heard that Farrell was job hunting, he called in a colleague and a photographer. The result was a long article with two photos in the New York Times the next day: "Who? Tom Farrell? Oh, yes, Show Him In." It wasn't exactly a resume of Tom Farrell, but the article, while covering the highlights of his running career also highlighted his qualifications and his desire to find a job. Within two days, Xerox had hired him.
When he retired as Global Account Manager with Xerox, Farrell undertook another job, a volunteer one. He had kept in touch with the track world all the time he was with Xerox, especially through his brother, who coached track at Princeton. He wanted to resume contact with his alma mater, St John's, and although he was living on the West Coast, he contacted the coach there to offer his services as a volunteer. He was invited to come for the 2000 indoor season: "I got a return ticket for two weeks in January to go to New York. I had such a good time that I tore the ticket up and stayed for the whole indoor season." A few weeks later he went back for the outdoor season.
He has been volunteering—and traveling between New York and the West Coast--for 16 years now. For a while he also helped during the cross-country season as well. "I've got really attached to the team. What I do now is spend about six weeks for the indoor season and later six more later for the outdoor. My mother and family are still in New York and deep down I'm still a New Yorker."
Farrell has been careful not to interfere with the coach's role at St. John's: "There's a head coach and two paid coaches. They're the bosses. I know my role. I help out any way I can—I recommend workouts for the middle-distance people; I give some talks. I honor that they're the coaches and that I'm just there to help out."

Note: All unattributed quotations by Tom Farrell are from telephone interviews conducted on March 13 and April 3, 2015.
---